You've got an upcoming race… and a recent injury. Now what?
You signed up for a race and paid your registration, but, unfortunately, you sustained an injury just a few weeks before race day. This is not a rare occurrence. Life happens – and injuries happen to even the most experienced athletes.
"So," my patients ask, "can I run the race anyway? Should I run the race anyway? I already paid for it!"
Participating in a race while injured is generally not a good idea. "Pushing through" an injury usually results in a longer rehabilitation time for your existing injury, and it can also exacerbate an existing condition – making it even more serious.
Bottom line: if you aren't prepared for a race, for whatever reason (injury or lack of training) – be smart and look into the race organizer's deferment policy. If it's early enough before race day, you may just need to pay a small fee to transfer you registration to a later race… One that you will be ready for!
If it just a few days before the race and deferment is not an option – pick up your race goodies and gear. Then cheer on your friends from the sidelines – knowing that you are doing the right thing for your health.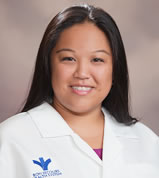 About Dr. Jocelyn Ricasa
Jocelyn Ricasa, MD, is board-certified in family medicine, internal medicine and sports medicine. She holds a doctor of medicine degree from Eastern Virginia Medical School (EVMS) in Norfolk, Va. Also at EVMS, she completed the combined family medicine and internal medicine residency, during which she served as chief resident in her final year. Additionally, she completed a fellowship in primary care sports medicine at Drexel University College of Medicine in Philadelphia, Pa.