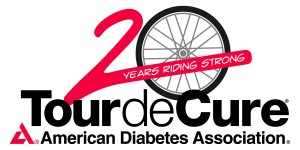 We're a little less than a month away from the American Diabetes Association's Tour de Cure 2013 for Hampton Roads at Kings Fork High School!
On April 20th, Hampton Roads is hosting a Tour de Cure cycling event. A day full of fun and excitement where riders of all levels join forces in the fight to Stop Diabetes® and raise critical funds for diabetes research, education and advocacy in support of the American Diabetes Association.
The Hampton Roads riders will travel through the peaceful peanut countryside of Suffolk, Virginia, past horse farms and scenic lakes.  The Tour is a ride, not a race.  Whether you are an occasional rider or an experienced cyclist, the Hampton Roads Tour has a little something for everyone.
No matter the distance, every rider will be fully supported on your route with well-stocked rest stops, motorcycle and mechanical support, and Dr. Jason McHugh, of Western Branch Family Practice, who is serving as the event's medical director.
We're looking forward to being involved to support this great cause!
+ Learn more about the Hampton Roads Tour de Cure or register today!