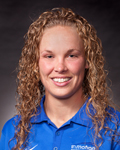 Emily Strobino, MEd, ATC, CES, PES
Head Athletic Trainer – Smithfield High School
Affiliated with Virginia Orthopaedic and Spine Specialists, Hampton Roads Orthopaedic and Sports Medicine
Bachelor of Science in Athletic Training, Lenoir-Rhyne University
Master of Education in Kinesiology – Athletic Training, University of Va.
Certified Athletic Trainer (ATC)
Certified Clinical Corrective Exercise Specialist (CES)
Performance Enhancement Specialist (PES)
State Licensed Athletic Trainer in the state of Virginia
Member of National Athletic Trainers Association
Member of National Strength and Conditioning Association
Holds a PES, CES and FMS level 1 certifications
Has been with Bon Secours since 2010
Areas of Specialization: Injury Prevention, Speed and Agility Training, Functional Movement Screening, Fitness and Weight Loss, Sport Specific Training and Conditioning.
Specializing in injury prevention, speed and agility training, team training, functional movement screening, fitness and weight loss, and sport specific training and conditioning; Emily has a wide variety of experience in every sport.  Emily played softball and basketball growing up, but continued with volleyball, swimming, and soccer into high school.
While attending Lenoir-Rhyne, Emily exhibited her talents on the soccer field playing goalkeeper for three years.  She balanced this with athletic training duties, including working with the volleyball, women's basketball, baseball, and football teams, as well as at a local high school.
While continuing her education at the University of Virginia, Emily worked as a Graduate Assistant Athletic Trainer at Virginia Military Institute. During her time there, Emily worked with their Division 1 teams in men's lacrosse, baseball, football, wrestling, and men's and women's soccer.  When she was still in college, Emily was involved with many other sport programs which included: summer sports camps for Appalachian State Field Hockey and Men's Soccer, UNC Chapel Hill Women's Soccer.
Emily has since gained experience working at First Colonial High School, as well as continuing to work local summer camps at ODU (Women's Basketball, Men's Soccer, and Women's Lacrosse.)