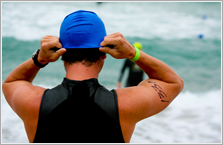 Many people have a shoulder that has bugged them for weeks, months, or even years, without an obvious cause.  In most cases, the way people sleep causes this painful condition.
If you have pain in your shoulder, and find yourself sleeping on that side with your arm over your head, you are squeezing a part of the rotator cuff between the bone of the upper arm and the shoulder blade for several hours every night.  As you'd expect, most things don't enjoy being pinched for several seconds, let alone a whole night.
The rotator cuff muscles are very small muscles that essentially serve to keep space through the bones of the shoulder during motion as well as provide stability to the shoulder joint.  When one of the four rotator cuff muscles is injured, many of the supporting muscles around the shoulder are tasked with attempting to assist the cuff in those functions.  As you'd expect, the supporting muscles are not capable of performing that task, and they make their displeasure known.
How to Find Relief from Rotator Cuff Pain
It might be surprising to learn that the way to treat this condition (aside from stopping the pinch) is to use the affected rotator cuff muscle more, which seems to go against what your body is telling you.  As the cuff muscles get inflamed they function worse.  The key is to strengthen them with exercises to bring more blood to the area to improve their function as well as take the strain off of the supporting muscles.  Physical therapists are superb at this rehabilitation.
+ Learn more about our partners at In Motion Physical Therapy.
Also, let us not forget the pinch of the poor rotator cuff muscle between the bones as we sleep.  A great way to prevent this is to not sleep (which is difficult over the period needed for healing). Or, a much more realistic method is to tuck the affected shoulder into your shirt before bed then tuck your shirt in to your pajama bottoms.  This clothing arrangement makes it very difficult to get your arm over your head – helping you avoid irritation in your sleep.
Experiencing debilitating shoulder pain? Schedule an appointment with Dr. McHugh by calling his office in Western Branch at (757) 686-5673!
About Dr. Jason McHugh
Jason M. McHugh, DO, CAQSM is board certified in Family Medicine and Osteopathic Manipulation with a Certificate of Added Qualification in Primary Care Sports Medicine from the American Osteopathic Board of Family Physicians. He received his bachelor of science in biology from the University of Michigan in Flint, Mich. He earned a doctoral degree in osteopathic medicine from Michigan State University College of Osteopathic Medicine in East Lansing, Mich., and completed a residency in family medicine at the Genesys Regional Medical Center in Grand Blanc, Mich. Dr. McHugh did his fellowship in primary care sports medicine at Michigan State University/Sparrow Hospital in East Lansing. He currently serves as a medical director for Bon Secours Sports Medicine and In Motion Physical Therapy and Sports Performance. His duties include providing care and event coverage to local high school athletes as well as providing medical coverage and oversight to local mass participation events in the Hampton Roads area.